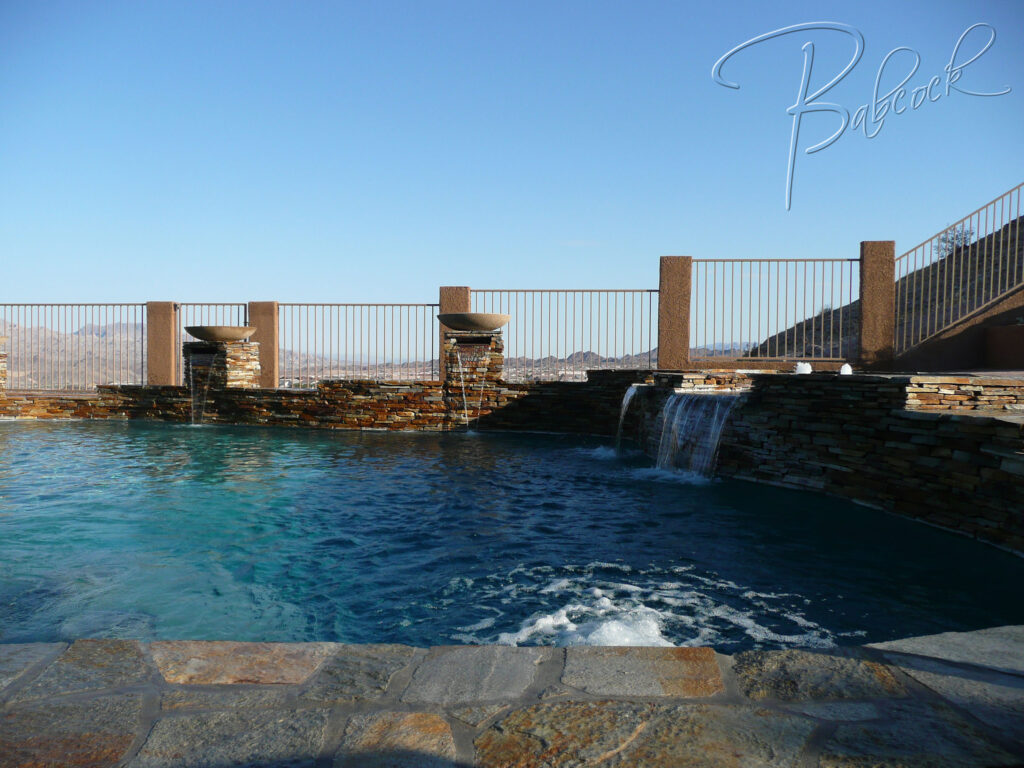 Nestled amidst the picturesque Sonoran Desert, Cave Creek is a scenic town that boasts a unique charm and natural beauty. As the premier luxury pool builder in Cave Creek, Babcock Custom Pools takes immense pride in enhancing the outdoor living experience for residents in this delightful community. With an unwavering commitment to excellence and a passion for perfection, we create extraordinary swimming pools that seamlessly blend opulence, functionality, and artistic design.
At Babcock Custom Pools, excellence is the foundation of our pool construction process. From the very first consultation to the final touches, we leave no room for compromise when it comes to delivering top-notch pool design and construction. Our team of skilled professionals, including designers, engineers, and craftsmen, bring their expertise and creativity to every project, ensuring that every detail is meticulously executed. With our dedication to quality, we guarantee a pool that not only meets but exceeds your highest aspirations.
As the leading luxury pool builder in Cave Creek, we understand the allure of the surrounding desert landscape and the discerning preferences of the community. Our pools are thoughtfully crafted to complement the natural beauty of Cave Creek, transforming your backyard into a private oasis that radiates elegance and sophistication. Whether you envision a modern masterpiece or a rustic desert retreat, our talented team works diligently to bring your vision to life, creating a pool that harmonizes perfectly with your lifestyle.
At Babcock Custom Pools, we believe in celebrating individuality and creating bespoke designs that reflect your unique style and desires. Our expert designers collaborate closely with you, taking the time to understand your inspirations and ideas, to create a custom pool design that exudes elegance and timeless appeal. By blending innovative concepts with practical functionality, we ensure that your pool becomes a breathtaking centerpiece that caters perfectly to your specific needs.
Babcock Custom Pools sets the industry standard for craftsmanship and construction. Utilizing premium materials and state-of-the-art techniques, we ensure the structural integrity and durability of your pool. Our experienced builders and artisans meticulously execute every step of the construction process, ensuring that your pool not only looks exceptional but also stands the test of time. With our unwavering commitment to excellence, we deliver pools that epitomize beauty, endurance, and luxury.
At Babcock Custom Pools, exceptional customer service is at the heart of our values. We pride ourselves on providing a seamless and enjoyable pool-building experience for our clients. From the initial consultation to the final touches, we prioritize open communication, transparency, and responsiveness. Our goal is to bring your vision to life effortlessly, ensuring your utmost satisfaction at every stage. Trust us to provide an unforgettable pool-building journey that surpasses all expectations.
When it comes to luxury pool construction in Cave Creek, Babcock Custom Pools stands unparalleled. With our dedication to excellence, personalized designs that exude opulence, and unmatched craftsmanship, we create pools that redefine outdoor living. Transform your backyard into a haven of relaxation, entertainment, and luxury with a Babcock Custom Pool. Choose us as your trusted Cave Creek pool builder, and let us create a timeless and elegant oasis that becomes the crown jewel of your home.