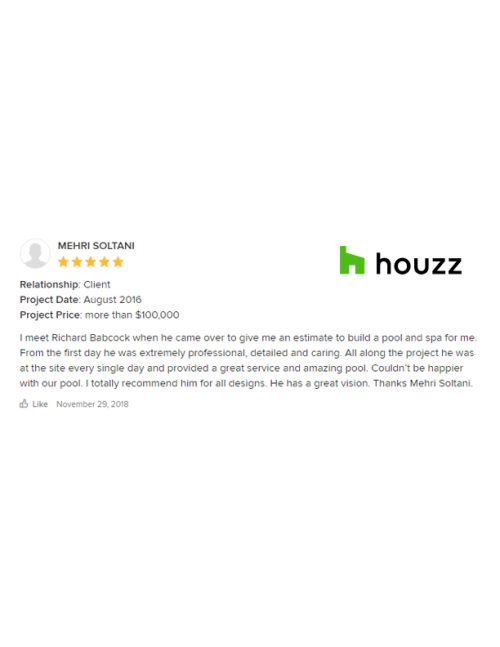 I met Richard Babcock when he came over to give me an estimate to build a pool and spa for me. From the first day, he was extremely professional, detailed and caring. All along the project he was at the site every single day, and provided a great service and amazing pool. Couldn't be happier with our pool. I totally recommend him For all designs. He has a great vision. Thanks Mehri Soltani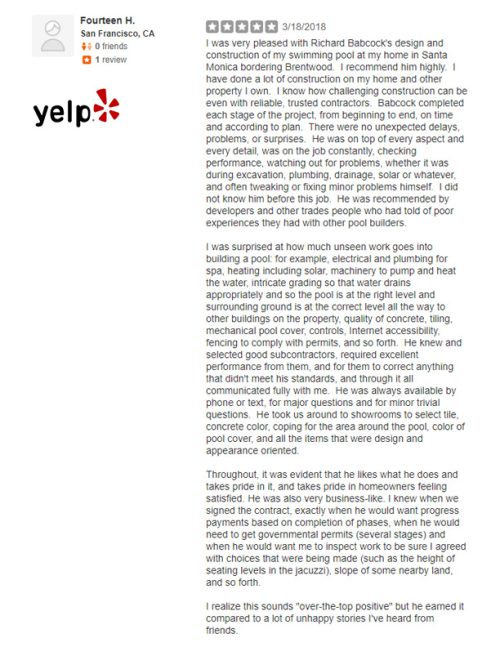 I was very pleased with Richard Babcock's design and construction of my swimming pool at my home in Santa Monica bordering Brentwood. I recommend him highly. I have done a lot of construction on my home and other property I own. I know how challenging construction can be even with reliable, trusted contractors. Babcock completed each stage of the project, from beginning to end, on time and according to plan. There were no unexpected delays, problems, or surprises. He was on top of every aspect and every detail, was on the job constantly, checking performance, watching out for problems, whether it was during excavation, plumbing, drainage, solar, or whatever, and often tweaking or fixing minor problems himself. I did not know him before this job. He was recommended by developers and other trades people who had told of poor experiences they had with other pool builders.
I was surprised at how much unseen work goes into building a pool: for example, electrical and plumbing for spa, heating including solar, machinery to pump and heat the water, intricate grading so that water drains appropriately and so the pool is at the right level and surrounding ground is at the correct level all the way to other buildings on the property, quality of concrete, tiling, mechanical pool cover, controls, Internet, accessibility, fencing to comply with permits, and so forth. He knew and selected good subcontractors, required excellent performance from them, and for them to correct anything that didn't meet his standards, and through it all communicated fully with me. He was always available by phone or text, for major questions and for minor trivial questions. He took us around to showrooms to select tile, concrete color, coping for the area around the pool, color of pool cover, and all the items that were design and appearance oriented.
Throughout, it was evident that he likes what he does and takes pride in it, and takes pride in homeowners feeling satisfied. He was also very business-like. I knew when we signed the contract exactly when he would want progress payments based on completion of phases, when he would need to get governmental permits (several stages) and when he would want me to inspect work to be sure I agreed with choices that were being made (such as the height of seating levels in the jacuzzi), slope of some nearby land, and so forth.
I realize this sounds "over-the-top positive" but he earned it compared to a lot of unhappy stories I've heard from friends.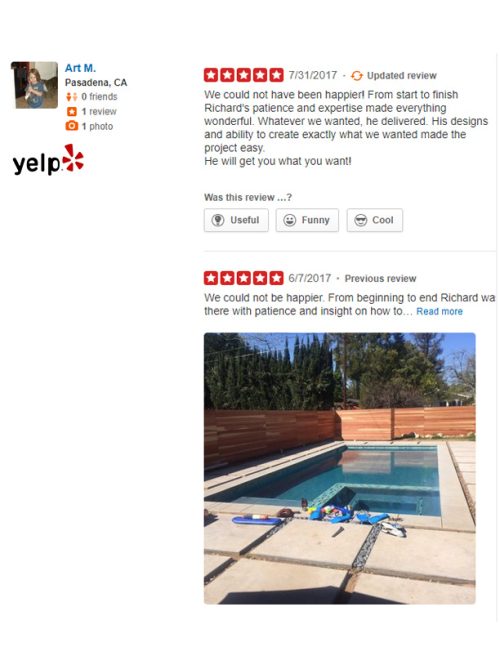 We could not have been happier! From start to finish, Richard's patience and expertise made everything wonderful. Whatever we wanted, he delivered. His designs and ability to create exactly what we want. It made the project easy.
He will get you what you want!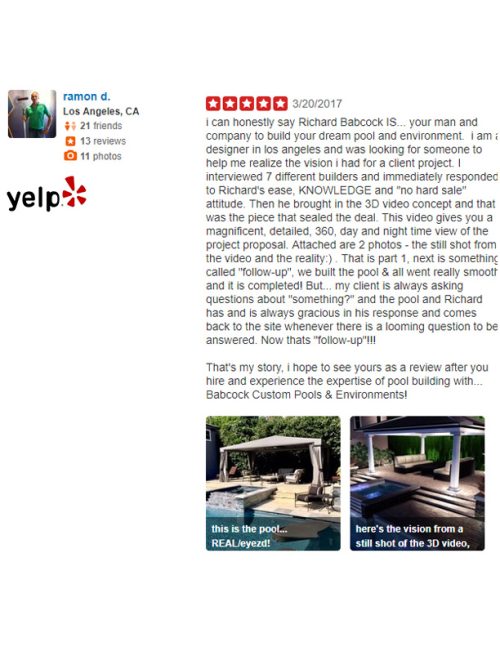 I can honestly say Richard Babcock IS . . . your man and your company to build your dream pool and environment. in Los Angeles, and was looking for someone to help me realize the vision I had for a client project. I interviewed 7 different builders and immediately responded to Richard's ease, KNOWLEDGE, and "no hard sell" attitude. Then he brought in the 3D video concept and that was the piece that sealed the deal. This video gives you a magnificent, detailed, 360, day and night time view of the project proposal. Attached are 2 photos – the still shot from the video and the reality :-). That is part 1, next is something called "follow up", we built the pool & and all went really smoothly and it is completed! But . . . my client is always asking some questions about "something?" and the pool and Richard has and is always gracious in his response and comes back to the site whenever there is a looming question to be answered. Now that "follow up"!!!
That's my story, I hope to see yours in a review after you hire and experience, the expertise of pool building with Babcock Custom Pools & Environments!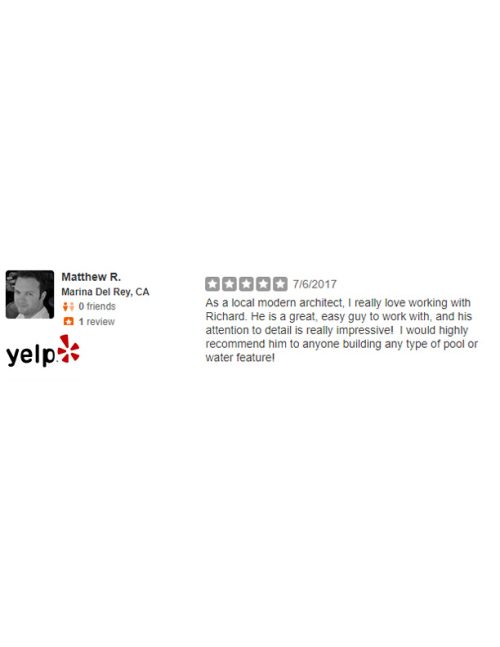 To Whom It May Concern:
Richard Babcock has consulted with me on several modern pool designs, and it could not have been a more pleasant experience. Richard is really attentive to detail, and extremely passionate about what he does. I would recommend Richard to anyone needing a special pool done right the first time.
MATTHEW ROYCE AIA
M_ ROYCE ARCHITECTURE
mroycearchitecture.com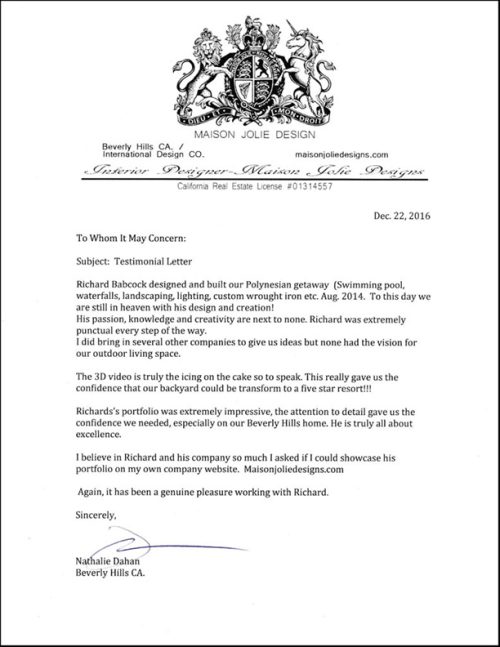 To Whom It May Concern:
Subject: Testimonial Letter
Richard Babcock designed and built our Polynesian getaway (Swimming Pool, waterfalls, landscaping, lighting, custom wrought iron, etc. August 2014. To this day we are still in heaven with his design and creation!
His passion, knowledge, and creativity are next to none. Richard was extremely punctual every step of the way.
I did bring in several other companies to give us ideas but none have a vision for our outdoor living space.
The 3D video is truly the icing on the cake so to speak. This really gave us the confidence our backyard could be transformed into a five-star resort!!!
Richard's portfolio was extremely impressive, the attention to detail gave us the confidence we needed, especially on our Beverly Hills home. He is truly all about excellence.
I believe in Richard and his company so much I asked if I could showcase his portfolio on my own company website. maisonjoliedesigns.com
Again, it has been a genuine pleasure working with Richard.
Nathalie Dahan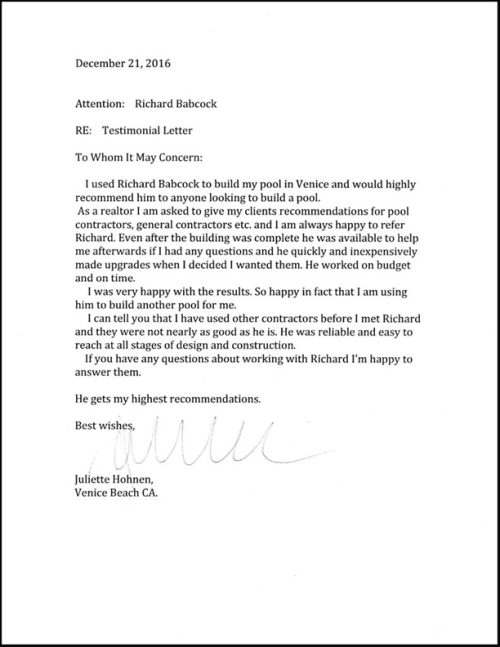 To Whom It May Concern:
I used Richard Babcock to build my pool in Venice and would highly recommend him to anyone looking to build a pool.
As a realtor, I am asked to give my clients recommendation for pool, contractors, general contractors, etc. and I am always happy to refer Richard. Even after the building was complete he was available to help me afterwards if I had any questions and he quickly and inexpensively made upgrades when I decided I wanted them. He worked on budget and on time.
I was very happy with the results. So happy in fact that I am using him to build another pool for me.
I can tell you that I have used other contractors before I met Richard and they were not nearly as good as he is. He was reliable and easy to reach at all stages of design and construction.
If you have any questions about working with Richard, I'm happy to answer them.
He gets my highest recommendations.
Best wishes,
Juliette Hohnen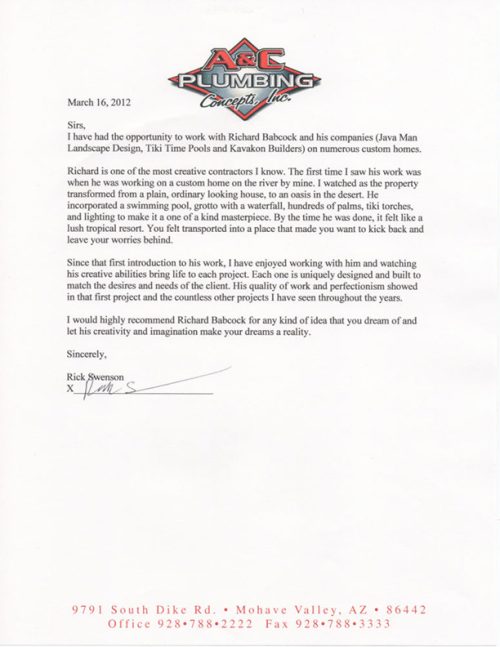 Sirs:
I have had the opportunity to work with Richard Babcock and his companies (Java Man Landscape Design, Tiki Time Pools, and Kavakon Builders) on numerous custom homes.
Richard is just one of the most creative contractors I know. The first time I saw his work was when he was working on a custom home on the river by mine. I watched as the property transformed from a plain, ordinary looking house, to an oasis in the desert. He incorporated a swimming, pool, grotto with a waterfall, hundreds of palms, tiki, torches, and lighting to make it a one of a kind masterpiece. By the time he was done, it felt like a lush, tropical resort. You felt transported into a place that made you want to kick back and leave your worries behind.
Since that first introduction to his work, I have enjoyed working with him and watching his creative abilities bring life to each project. Each one is uniquely designed and built to match the desires and needs of the client. His quality of work and perfectionism showed in that first project and the countless other projects I have seen throughout the years.
I would highly recommend Richard Babcock for any kind of idea that you dream of and let his creativity and imagination make your dreams a reality.
Sincerely,
Rick Swenson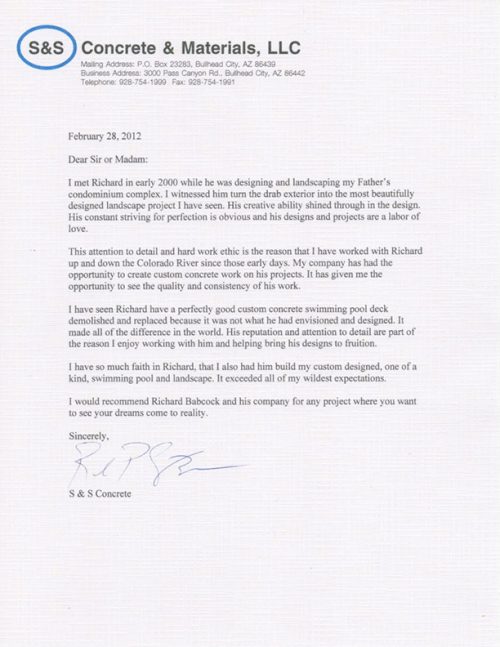 Dear Sir or Madam:
I met Richard in early 2000 while he was designing and landscaping my Father's condominium complex. I witnessed him turn the grab exterior into the most beautifully designed landscape project I have seen. His creative ability shined through in the design,. His constant striving for perfection is obvious and his designs and projects are labor of love.
This attention to detail and hard work ethic is the reason that I have worked with Richard up and down the Colorado River since those early days. My company has had the opportunity to create custom concrete work on his projects. It is giving me the opportunity to see the quality and consistency of his work.
I have seen Richard have a perfectly good custom, concrete swimming pool deck demolished and replaced because it was not what he had envisioned and designed. It made all the difference in the world. His reputation and attention to detail are part of the reason I enjoy working with him and helping bring his designs to fruition.
I have so much faith in Richard, that I also had him build my custom designed, one of a kind, swimming, pool, and landscape. It exceeded all of my wildest expectations.
I would recommend Richard Babcock and his company for any project where you want to see your dreams come true reality.
Sincerely,
Bob Swartzman
S & S Concrete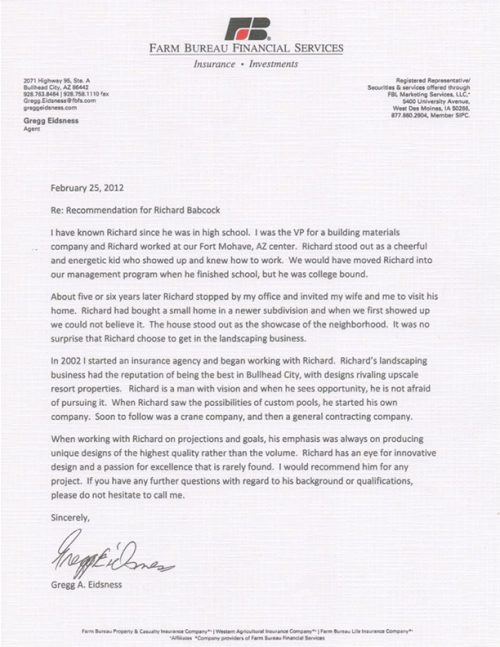 I have known Richard since he was in high school. I was the VP for a building materials company and Richard worked at our Fort Mojave, AZ, center. Richard stood out as a cheerful and energetic kid who showed up and knew how to work. We would have moved Richard into our management program when he finished school, but he was college bound.
About five or six years later, Richard stopped by my office and invited my wife and me to visit his home. Richard had bought a small home in a newer subdivision, and when we first showed up, we could not believe it. The house stood out as a showcase of the neighborhood. It was no surprise that Richard chose to get in the landscaping business.
In 2002, I started an insurance agency and begin begin working with Richard. Richard's landscaping business had the reputation of being the best in Bullhead City, with designs rivaling upscale resort properties. Richard is a man with vision, and when he sees opportunity, he is not afraid of pursuing it. When Richard saw the possibilities of custom pools, he started his own company. Soon to follow was a crane company, and then a general contracting company.
When working with Richard on projections and goals, his emphasis was always on producing unique designs of the highest quality rather than the volume. Richard has an eye for innovative design, and a passion for excellence that is rarely found. I would recommend him for any project. If you have any further questions with regard to this background or qualifications, please do not hesitate to call me.
Sincerely,
Gregg A. Eidsness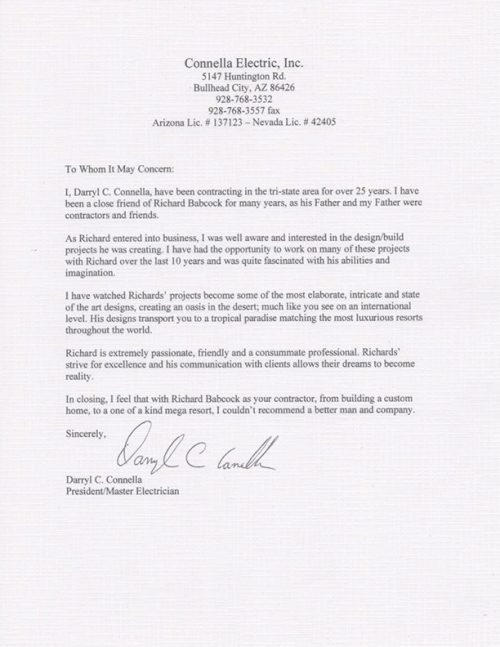 To whom it may concern:
I, Darryl C. Connella, have been contracting in the tri-state area for over 25 years. I have been a close friend of Richard Babcock for many years, as his Father and my Father were contractors and friends.
As Richard entered into the business, I was well aware and interested in the design/build project he was creating. I've had the opportunity to work on many of these projects with Richard over the last 10 years and was quite fascinated with his abilities and imagination.
I have watched Richard's projects become some of the most elaborate, intricate and state of the art designs, creating an oasis in the desert much like you see on an international level. His designs transport you to a tropical paradise, matching the most luxurious resorts throughout the world.
Richard is extremely passionate, friendly, and a consummate professional. Richard's striv[ing] for excellence and his communication with clients allows their dreams to become reality.
In closing, I feel that with Richard Babcock, as your contractor, from building a custom home, to a one of a kind mega resort, I couldn't recommend a better man and company.
Sincerely,
Darryl C. Connella
President/Master Electrician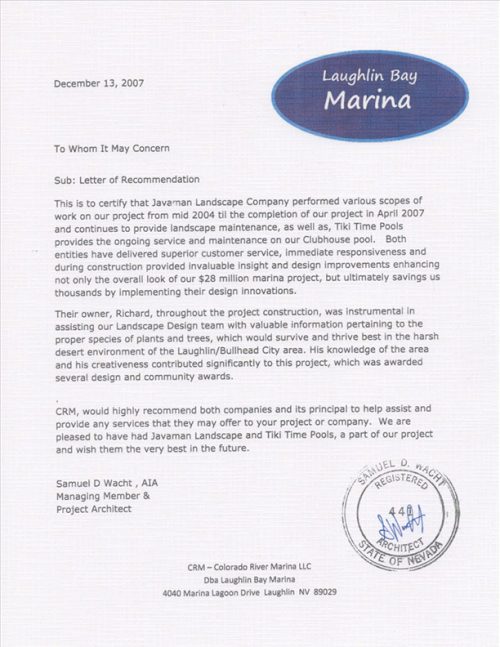 To Whom It May Concern,
This is to certify that Java Man Landscape Company performed various scopes of work on our project from mid 2004 to the completion of our project in April 2007 and continues to provide landscape maintenance, as well as Tiki Time Pools provides the ongoing service and maintenance on our Clubhouse pool. Both entities have delivered superior customer service, immediate responsiveness, and during construction, provided invaluable insight and design improvements enhancing not only the overall look of our $28 million marina project, but ultimately saving us thousands by implementing their design innovations.
Their owner, Richard, throughout the project construction, was instrumental in assisting our Landscape design Design team, with valuable information pertaining to the proper species of plants and trees, which would survive and thrive, best in the harsh desert environment of the Laughlin/Bullhead City area. His knowledge of the area and his creativeness contributed significantly to this project, which was awarded several design and community awards.
CRM would highly recommend both companies, and its principal to help assist and provide any services that they may offer to your project or company. We are pleased to have had Java Man Landscape and Tiki Time Pools a part of it project and wish them the very best in the future.
Samuel D Wacht AIA
Managing Member &
Project Architect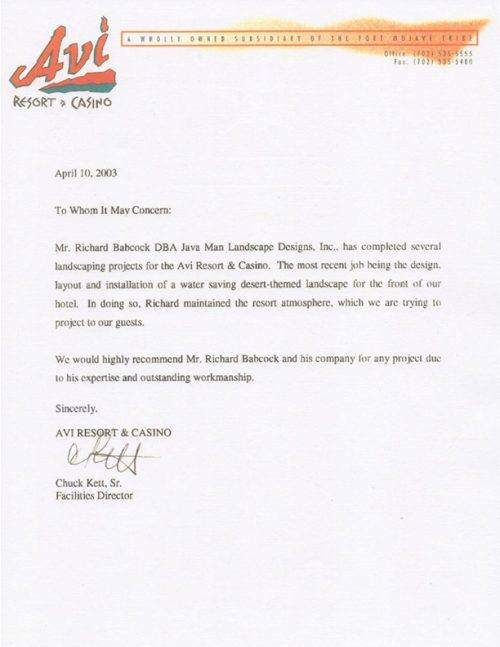 To Whom It May Concern:
Mr. Richard Babcock, DBA Java Man, Landscape Designs, Inc., has completed several landscaping projects for the Avi Resort and Casino. The most recent job being the design, layout and installation of a water saving desert-themed landscape for the front of our hotel. In doing so, Richard maintained the resort atmosphere, which we are trying to project to our guests.
We would highly recommend Mr. Richard Babcock and his company for any project due to his expertise and outstanding workmanship.
Sincerely,
Avi Resort and Casino
Chuck Kett, Sr.
Facilities Director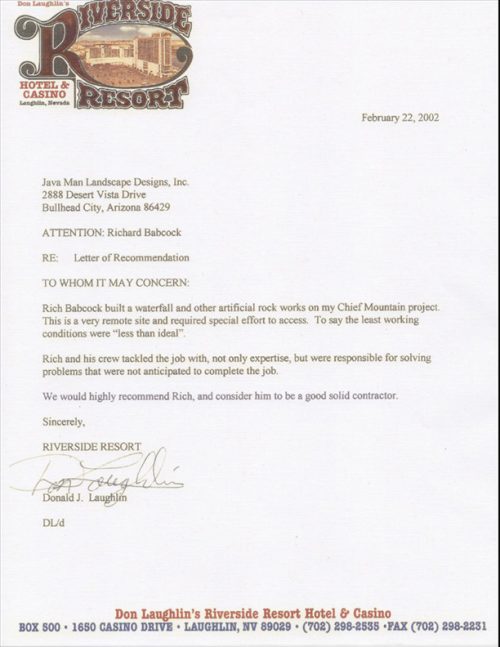 To Whom It May Concern:
Rich Babcock built, a waterfall and other artificial rock works on my Chief Mountain project. This is a very remote site and required special effort to access. To say the least working conditions were "less than ideal."
Rich and his crew tackled the job with, not only expertise, but were responsible for solving problems that were not anticipated to complete the job.
We would highly recommend Rich, and consider him to be a good solid contractor.
Sincerely,
Riverside Resort
Donald J. Laughlin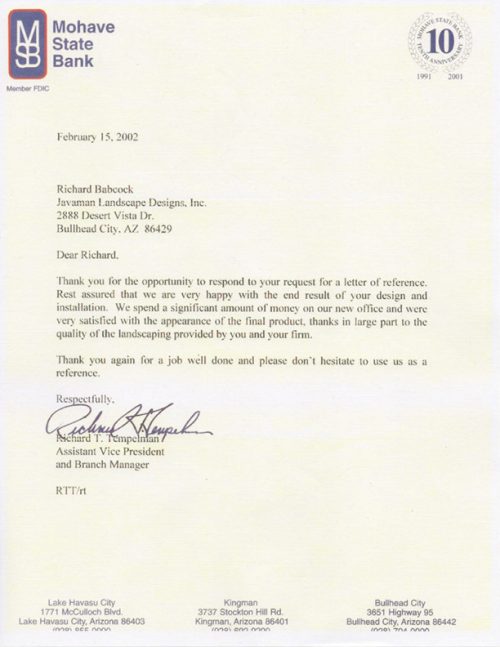 Dear Richard,
Thank you for the opportunity to respond to your request for a letter of reference. Rest assured that we are very happy with the end result of your design and installation. We spend a significant amount of money on our new office and were very satisfied with the appearance of the final product, thanks, in large part to the quality of the landscaping provided by you and your firm.
Thank you again for a job well done and please don't hesitate to use us as a reference.
Respectfully,
Richard T. Tempelman
Assistant Vice President
And Branch Manager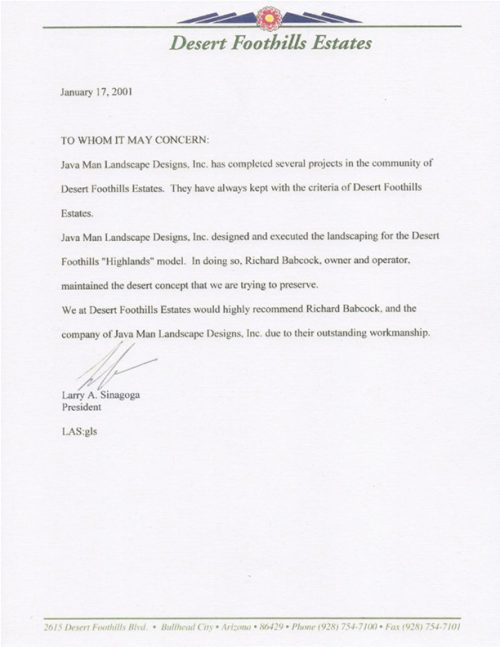 To Whom It May Concern:
Java Man Landscape Designs, Inc., has completed several projects in the community of Desert Foothills Estates. They have always kept with the criteria of Desert Foothills Estates.
Java Man Landscape Designs, Inc., designed and executed the landscaping for the Desert Foothills "Highlands" model. In doing so, Richard Babcock, owner and operator, maintained the desert concept that we are trying to preserve.
We at Desert Foothills Estates would highly recommend Richard Babcock, and the company of Java Man Landscape Designs, Inc., due to their outstanding workmanship.
Larry A. Sinagoga
President